Badge Accessories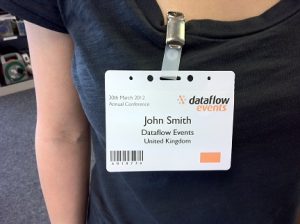 We can provide both branded and plain lanyards for your event. There are various badge holders to suit your type of event included vinyl wallets, coloured badge holders, holders with clip and pin attached and more.
Furthermore, if you prefer your delegates to wear the badge without a lanyard or wallet, we can supply you with clip and pin, strap clip or magnet attachments.
Let us know which you'd like when you order with us.
Pre-Printing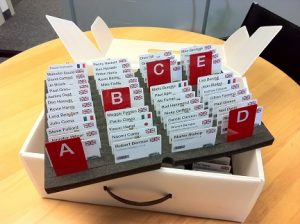 For pre-printing, we can present your badges in many ways. As standard, we arrange your badges in plastic trays which can hold all badges, regardless of width. The plastic trays hold 30 badges but for display purposes on site we suggest you display them using 15 badge slots.
Additionally, we can provide you foam trays which are very popular for clients who have registration desks. These trays are made from high density foam that can hold each badge throughout the travel process. Each foam tray can hold 56 badges and our badging team can include alphabetical display cards, if needed.
Onsite
Equipment:
Thermal plastic badge printers and laptops with badge printing software can be hired for onsite use. We have developed a system for quick retrieval of delegate data and instant printing of badges. This is a great solution for any unexpected attendees that need to be registered at the event. If using a paper based badge then small, transportable inkjet printers are substituted for the thermal printers.
Search and print:
Badges are personalised at the point of registration. On arrival, attendees simply provide their name and the appropriate record is found on the database. The badge is then quickly personalised – typically in less than 10 seconds.
Scan and print:
We can issue to all attendees joining instructions or e-tickets containing a unique QR or barcode. At the point of registration, delegates simply show their code either from their phone or hard copy print-out to trigger the printing of their badge.  A number of printers and scanners can be used to facilitate larger events.